Ellen is a Richmond, Virginia based, full service interior decorator, with a keen eye for color and detail, and a love for mixing textiles of all scales in a client's space. Her style of "traditional with a twist", incorporates classic, quality furnishings with a fresh take, paired with an unexpected color palette, to achieve a practical, but fun and colorful space for her clients. One of her mottos, "fun, classic, and stylish do not have to be sacrificed when decorating a room." 
To learn more about working with Ellen Kastleberg Interiors contact us.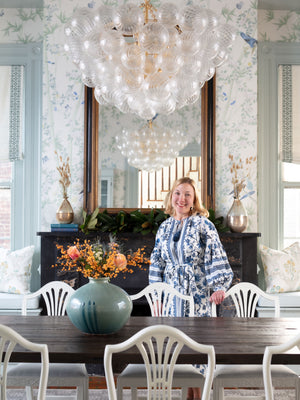 ABOUT ELLEN
Ellen has been working with clients over the past five years, designing their spaces to meet their design style infused with fun and function. See her gallery of work.
It has been a pleasure having Ellen Kastelberg Interiors help create beautiful rooms in my home over the past several
years.  Ellen has an innate way of combining styles that represent quality design while also providing usable and functional spaces for our family. Her projects are executed smoothly and seamlessly, with the highest attention to detail.
Our experience with Ellen
has been nothing short of exceptional. Her attention to detail, respect for our design aesthetic and overall interior decorating knowledge is second to none. Not only is she dedicated at every phase of the project, but her commitment to being on site and available when needed also stands out. We look forward to completing other projects with her as we continue to transform our new house into a dream home."